Download disk ejector for Mac
A CD or DVD disc can become stuck in th Mac. It may not be appearing on the desktop or could be causing the computer to lock up if the computer cannot recognize it properly. How to solve it?
Unlike many PCs, Macs don't have a manual eject button on their CD/DVD drives. You can eject a CD or DVD from a Mac using the following methods:
1. All Apple keyboards have an eject key, press the eject key to eject the CD or DVD from the drive.
2. On the keyboard, press and hold the F12 key until the CD or DVD is ejected from the drive.
3. Click on the desktop icon of the CD or DVD, and drag it to the trash.
4. Using specialized disk ejector tool.
EaseUS CleanGenius is a disk ejector for Mac which can eject the mounted devices, like external storage disks, removable devices, CD/DVD, SuperDrive, network storage devices, disk images, etc.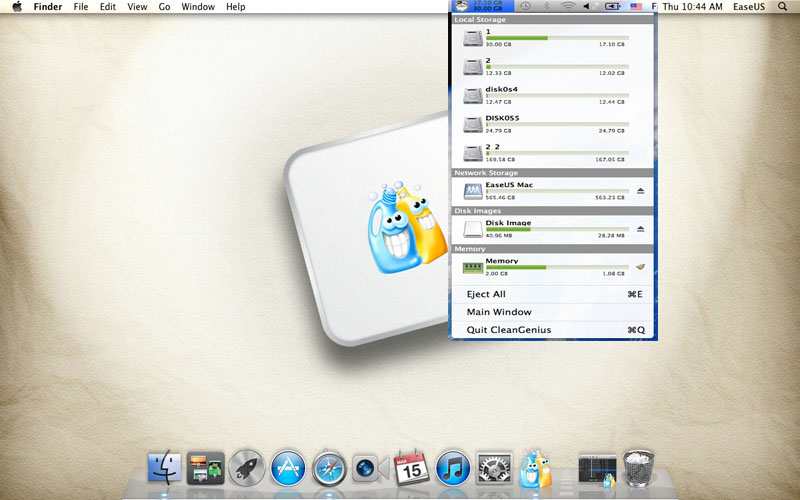 Besides disk ejector, it also has Mac clean, app uninstall, free space monitor functions. With clean, you can easily clean system junk files, such as system logs, system caches, user logs, user caches, user trash, user downloads, safari Internet caches, etc. Just one-click, your Mac will be clean and healthy, runs smoothly and efficiently. App uninstaller helps you remove the unwanted applications once and for all and reclaim the wasted disk space to speed up the Mac. Free space monitor will warn you when the disk space is running low so that you can clean your Mac to free up disk space in time.
Feedback on this article:
Thanks for visiting EaseUS, please share your experience with us, which will help us improve this article and make it more useful to others. Should you need technical support please feel free to contact support@easemac.com.
Related Articles: