How can I eject a CD from my Mac?
Many new Mac users would meet this frustrating question "I inserted a CD into my Mac, and now I can't figure out how to eject it. There is no eject button on my CD drive."
A Mac doesn't have an external eject button on its CD/DVD drive. Instead, it offers several options for ejecting a CD or DVD.
You can find an eject key on the Apple keyboards. It usually located in the upper right corner of the keyboard. Press that eject key will eject the CD or DVD you inserted.
On any Apple keyboard, you also can press and hold the F12 key until the CD or DVD is ejected from the drive. Normally, this may take several seconds.
After you insert a CD right into a Mac, an icon for it appears on the desktop. All you'll need to carry out is to drag this icon for the Trash, and this really should make your disc tray open, as a result enabling you to eject the disc.
Restart the machine, and keep the mouse button held down during all the process. Tend not to depart the button untill the tray opens and eject the CD.
Some applications, such as EaseUS CleanGenius, have an eject command in the device menu and the toolbar. Launch the application and use the eject command to eject the CD or DVD.
It can also clean your Mac by removing junk files, such as system caches, system logs, user logs, user caches, trash, user download folder, safari internet cache, etc. under Mac OS X 10.6 or higher.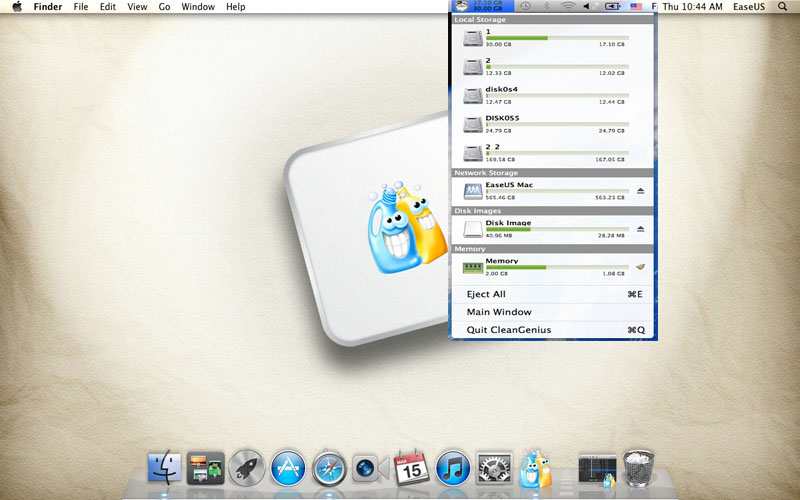 Feedback on this article:
Thanks for visiting EaseUS, please share your experience with us, which will help us improve this article and make it more useful to others. Should you need technical support please feel free to contact support@easemac.com.
Related Articles: