Best Mac OS X drive cleaner
In today's digital world, videos, music, podcasts, games, applications, documents, etc. they all fill your hard drive, hard drive space gets eaten up quickly. At the meantime, System junks such as System Caches, User Caches, System Logs, User Logs, User Downloads, User Trash, Safari Internet Cache, etc. blocks your drives and drag down the speed of your Mac. Maybe you are crazy when your Mac like ants climbing. So Mac cleaning is urgent and important.
The simplest way to have it fixed is actually to remove the junks and free up some disk space to improve system performance.
Some tips for Mac cleanup
1. Go through your application folder, removing all unused applications.
2. Remove all localization files not used for your language, this can free up to 2GB of space.
3. Open iPhoto and delete photos you no longer need. iPhoto has its own application trash so remember to empty that.
4. Open iTunes and delete all of the music and podcasts you no longer need.
5. Go through your Documents, Movies, and Pictures folder, deleting any junk you no longer use.
6. Clear out old email messages in Mail or other email program.
7. Go to ~/Library/Caches/, and delete anything you see from applications you no longer have installed. Repeat the process in ~/Library/Preferences/.
8. Go to ~/Library/Safari/, and delete the "Icons" folder.
9. If you don't need it, remove the Xcode installer, located in /Applications/Installers/.
10. Remove unnecessary iChat icons from ~/Pictures/iChat Icons/.
Once you have done everything on the list, you should have a nice, clean hard drive, with plenty of free space. However, it is time-consuming job and hard to operate by yourself. With the help of Mac OS X drive cleaner, everything is easy.
Clean up Mac drive with free cleaner
As Mac OS X drive cleaner, EaseUS CleanGenius is easy-to-use system maintenance software which helps you clean up system logs, system caches, user logs, user caches, user trash, user download folder and so on.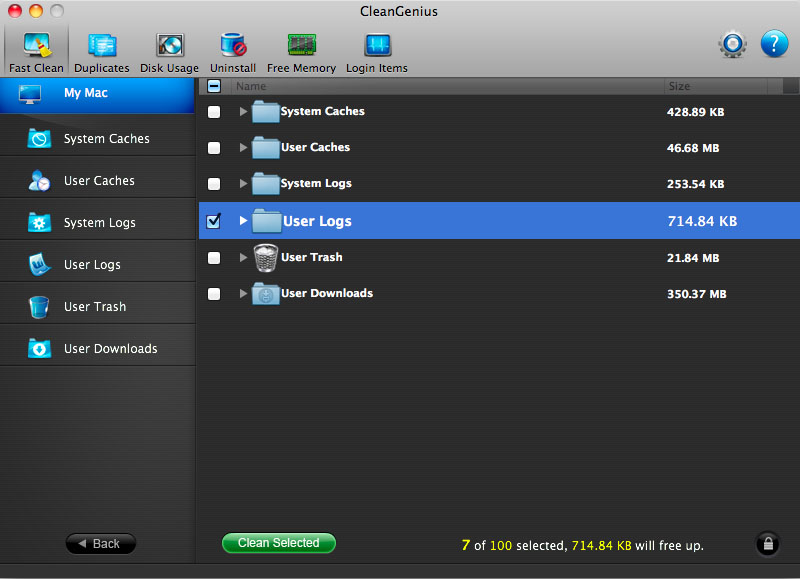 Clean up Mac fast: You can free more space on your Mac disk keeping your Mac healthy at all times. With a simple click from the utility, all junk files (System Caches, User Caches, System Logs, User Logs, User Downloads, Trash, Safari Internet Cache and more) will be removed in just a matter of seconds.
Monitor disk space: It will show you the disk space available and will alert you in advance if the disk space is already running low. You can clean or move files to free up disk space to ensure that your Mac is running smoothly.
Disk ejector: Using this one will allow you to eject the mounted drives, such as external storage disks, CD and DVD disks, SuperDrive, network storage and disk images.
Mac Uninstaller: "Uninstall Applications" safely and completely remove applications and their components, preferences, log files, etc. Select an application, just one click, the application and its additional components will be removed.
Duplicates Finder: Duplicate files have the identical contents and waste the precious disk space. CleanGenius can easily find and remove duplicate files to reclaim the wasted disk space.
Disk Usage: Visualize the size of your files & folders and remove the unwanted large files to free up more disk space.
Free Memory: When the free memory of your Mac is insufficient, you can easily use CleanGenius to free memory and speed up your Mac for better performance.
Set Login Items: Unneeded applications may auto run every time when you start Mac. This will reduce your Mac performance. If you don't want an application to start every time you launch your Mac, just open CleanGenius and disable the startup items you find annoying.
Editors reviewed EaseUS CleanGenius as follows:
"CleanGenius is an all-in-one Mac menu bar utility combined with disk space monitor and drive ejection. It cleans junk files by one-click and shows your disk space available."
"CleanGenius is an all-in-one Mac OS based menu bar utility which lets you clean junk files and features disk space monitor and drive ejection. The disk space monitor lets you monitor the amount of disk space being used and left."
Customers reviewed EaseUS CleanGenius as follows:
"CleanGenius is one of the must-have utilities for Mac users. It offers one-click disk clean and keeps track of the space available on your drives, informs you immediately if the volume is out of space. This is great!!!"
"This tiny menubar tool is powerful and easy on the eye; thank God our Macs now have a minty freshness!!!"
More reviews from editors and customers...
Why not downoad this Mac cleaner to let your Mac keep healthy and clean state?

If you are suffering data loss problem under Mac OS X, try EaseUS Mac Data Recovery Wizard to rescue your lost photos, pictures, documents and so on.
Feedback on this article:
Thanks for visiting EaseUS, please share your experience with us, which will help us improve this article and make it more useful to others. Should you need technical support please feel free to contact support@easemac.com.
Related Articles: