Free up your Mac's hard drive space
Following are some ways to free up your Mac's drive space for better system performance.
Empty your trash
The most basic thing is to empty your Trash regularly. Trash under Mac OS X is just like the Recycle bin under Windows OS. For Mac users, most of them just drag those useless files to the trash and forget to empty the Trash. Day after day, files in the Trash have been piled up and taken great space for Mac disk. In Finder, select Finder > Empty Trash or, under Mac OS X 10.3 or later, you can also select Finder > Secure Empty Trash.
Some applications have their own trash, such as iPhoto, iMovie, and Mail, empty their trash too.
Remove applications you don't use
If you know that you are not going to use some applications, such as some commercial applications on a trial basis, remove them! Open your Applications folder (with command-shift-A in Finder), drag the unused applications to the Trash, and then, please remember to empty the Trash. Or you can completely uninstall Mac apps with CleanGenius.
Remove disk images from downloaded files
Delete the disk image (.dmg) files whenever you download applications to install.
Clean web browser caches
All web browsers store downloaded pages and files in a cache so that they can reuse those files (instead of redownloading them) if you visit those same pages again. Clearing the cache could provide some free disk space.
Delete unused files or folders
If you know that some files or foders are not unused, please delete them and empty trash, it will free up more disk space. For example,
Open iPhoto and delete photos you no longer need. iPhoto has its own application trash so remember to empty afterwards.
Open iMovie and do the same, including trash.
Archive your E-Mail
Consider archiving the email when the space is low for saving every copy of every email to the hard drive may not be an option.
Run system cleanup utility
System cleanup utility is the helpful assistant to clean up the system and free up disk space automatically under Mac OS X. EaseUS CleanGenius is a cleanup software which can help you clean up temporary files, system caches, system logs, user logs, user trash, user download folder and so on. Its fast clean feature can scan your Mac hard drive and delete the thing that can be cleaned up automatically to free up disk space. Everything is easy, even if you don't have related knowledge about it.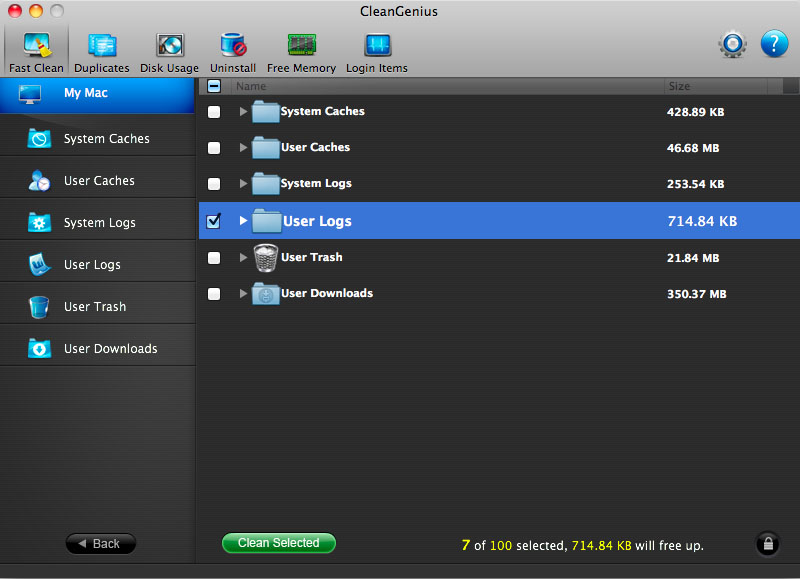 Some features of this Mac cleanup software:
Fast clean your Mac junk files.
Show the available space on all the drives.
Alarm when your disk space is running low.
Open the drives in Finder by one-click.
Pin the graphical space information of system drive on the menu bar.
Download this all-in-one cleanup software to clean up your Mac and free up disk space now.
Feedback on this article:
Thanks for visiting EaseUS, please share your experience with us, which will help us improve this article and make it more useful to others. Should you need technical support please feel free to contact support@easemac.com.
Related Articles: