Clean up your Mac's hard drive
In today's digital world, videos, music, podcasts, games, applications, documents, etc. they all fill your hard drive, hard drive space gets eaten up quickly. When your Mac's disk space is low, how to clean up your Mac? Following are some tips to clean up your Mac's hard drive and free up disk space.
Some tips for Mac's hard drive cleanup
1. Go through your application folder, removing all unused applications.
2. Remove all localization files not used for your language, this can free up to 2GB of space.
3. Open iPhoto and delete photos you no longer need. iPhoto has its own application trash so remember to empty that.
4. Open iTunes and delete all of the music and podcasts you no longer need.
5. Go through your Documents, Movies, and Pictures folder, deleting any junk you no longer use.
6. Clear out old email messages in Mail or other email program.
7. Go to ~/Library/Caches/, and delete anything you see from applications you no longer have installed. Repeat the process in ~/Library/Preferences/.
8. Go to ~/Library/Safari/, and delete the "Icons" folder.
9. If you don't need it, remove the Xcode installer, located in /Applications/Installers/.
10. Remove unnecessary iChat icons from ~/Pictures/iChat Icons/.
Once you have done everything on the list, you should have a nice, clean hard drive, with plenty of free space. However, it is time-consuming job and hard to operate by yourself. With the help of Mac cleanup software, everything is easy.
Clean up your Mac with cleanup software
EaseUS CleanGenius is a Mac cleanup software to clean up your hard drive and speed up your Mac.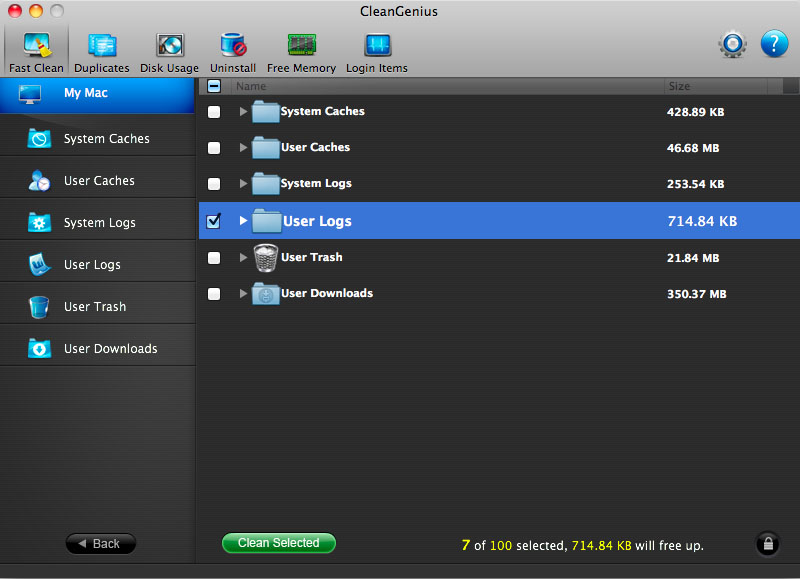 CleanGenius is a powerful and easy-to-use cleanup software for Mac users, making your Mac system run faster and free up hard drive space by cleaning up the System Caches, User Caches, System Logs, User Logs, User Downloads, Trash, and Safari Internet Cache, etc. CleanGenius allows enjoying smooth & better system performance with such vital features as Clean up System junk, Clean Caches, Free Space Monitor, Removable Device Monitor, Ejector, Quick Browse Device Files, and so on. All the operations are done within minutes and with less system resource being occupied during the whole process. With EaseUS CleanGenius, you can manage routine tasks and keep your Mac clean, efficient in the simplest way.
Feedback on this article:
Thanks for visiting EaseUS, please share your experience with us, which will help us improve this article and make it more useful to others. Should you need technical support please feel free to contact support@easemac.com.
Related Articles: