Mac uninstaller to uninstall Mac applications
Mac warns you hard drive full or low disk space. When encountering this problem, maybe you are crazy and have to find some solutions to deal with it. The following methods may be helpful to you.
1. Clean system junk files. For example, system logs, system caches, user logs, user caches, user downloads, user trash, etc. take a lot of precious disk space, these files are useless for you and waste lots of disk space. Cleaning them and freeing up disk space is urgent and necessary. But if you are not an expert, it is hard to locate them manually. With the help of specialized Mac cleaner, Mac clean is very easy.
2. Uninstall useless and unwanted applications. If you have installed lots of software on your Mac, uninstalling useless and unwanted applications will reclaim lots of disk space. May be you want to say, drag the unwanted applications to the Trash, this is a way but it is not uninstalled properly, leaves behind unneeded files which slows down your Mac and reduces performance. The best way is to remove the applications completely, including its components, preferences, cache and log files. With the help of specialized Mac app uninstaller, uninstall becomes very easy.
Mac cleaner and app uninstaller - EaseUS CleanGenius
EaseUS CleanGenius is a system clean software for Mac OS hard drive. It has Mac clean, app uninstall, free disk space monitor, disk ejector functions.
With its "Uninstall Applications", you can uninstall the apps you want to remove and delete its related components & files (preferences, cache files and log files) once and for all.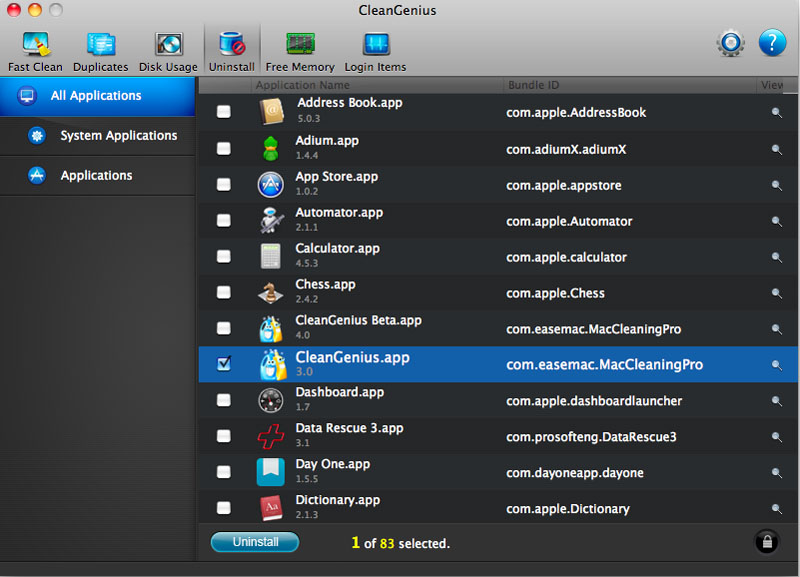 Select "Uninstall Applications" from the left panel, all applications will listed in right list, select an app you want to uninstall, click on Uninstall buttion, uninstall will be completed in minutes.
With its "Clean", you can clean your Mac by removing system caches, user caches, system logs, user logs, user trash, user downloads, etc. in seconds and free up the wasted disk space.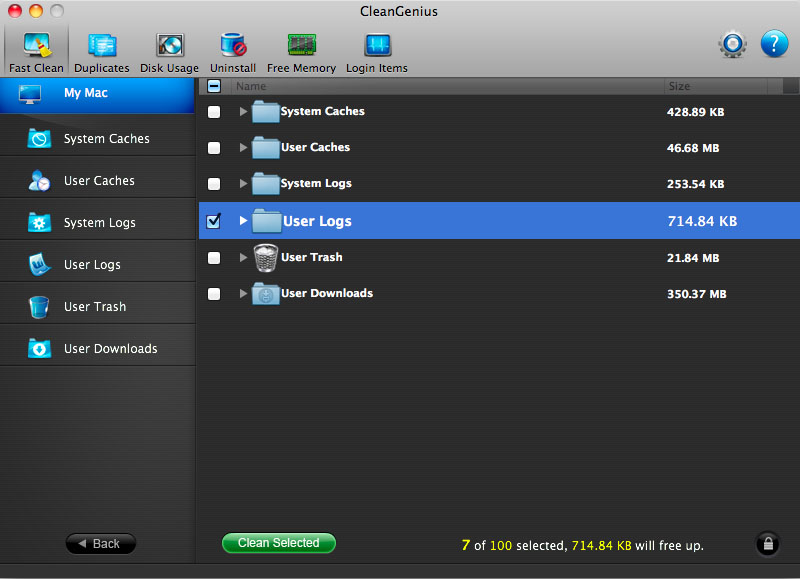 Free space monitor will warn you when the disk space is running low so that you can clean your Mac in time to reclaim the disk space to boost the Mac's speed and improve its system performance.
Free download it now!

If you are suffering data loss problem under Mac OS X, try EaseUS Mac Data Recovery Wizard to rescue your lost photos, pictures, documents and so on.
Feedback on this article:
Thanks for visiting EaseUS, please share your experience with us, which will help us improve this article and make it more useful to others. Should you need technical support please feel free to contact support@easeus.com.
Related Articles: