Revive Apple Mac with Mac cleaner software
If you are the typical computer user, you reach a point in time where you start to get low on space. Freeing up disk space on a Mac is as easy as on a PC, but with a few minor changes.
Steps:
Say goodbye to your favorites before. Open your Macintosh HDD and go to Movies, then you find anything that seemed cool and funny at the time but is now just a waste of needed space. Videos take up a lot of what you need. Move any unwanted videos to Trash.
Let the past go. In fact, a lot of things in Music/iTunes/iTunes Music/TV Shows or Movies are of no use and you rarely need them. Just let the past go and delete those obsolete things or move them to other place. If the movies files in iTunes that you got from YouTube or another video site, they take up space. This is because they are not compressed as they would be if you bought them from iTunes. Don't forget to go into iTunes and delete the files from there too! (Be careful that you don't delete files you want). Besides, do not forget files from previous years. For example, photos or videos of you messing around, or just old word documents.
Delete localization files. Many programs that you install will automatically place large foreign language help files on your computer for international users. If you have need for that foreingh language, get rid of it.
Delete your browsing history in Safari or Firefox. Clear out any cached files that you may have. This is simple in Safari with Cmd-Opt-E.
Open Finder and click on Applications. Scour this folder for any applications that you don't use, and delete them with an application that removes all the related folders elsewhere on the hard drive.
Get rid of all the locked files that are hanging around in your Trash that refuse to be deleted.
After talking about so many ways to free disk space for Mac, here I would like to introduce you an Apple Mac cleaner – EaseUS CleanGenius.
With EaseUS CleanGenius, you can:
Fast clean your Mac junk files.
Show the available space on all the drives.
Display alarm when your disk space is running low.
Eject all the mounted devices by one-click, like external storage disks, CD and DVD disks, SuperDrive, network storage, disk images.
Mount and Eject completion indicator.
Open the drives in Finder by click.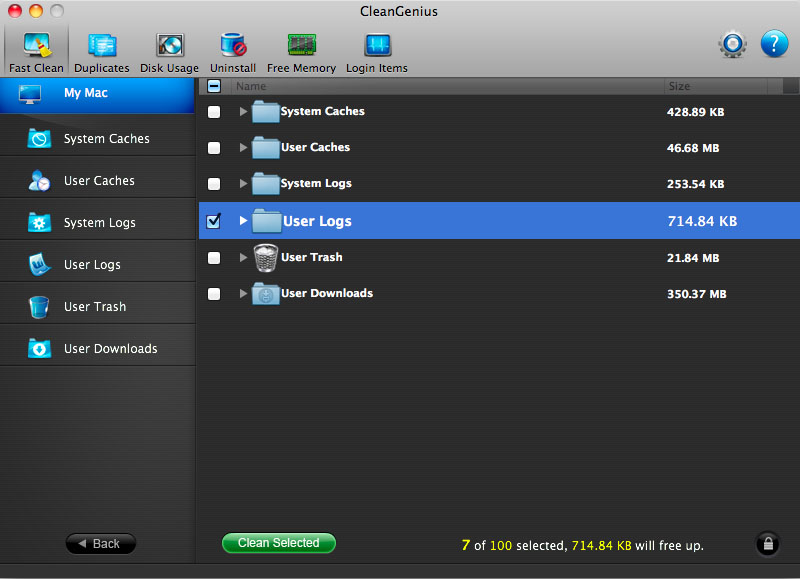 Feedback on this article:
Thanks for visiting EaseUS, please share your experience with us, which will help us improve this article and make it more useful to others. Should you need technical support please feel free to contact support@easemac.com.
Related Articles: