Clean Mac system software to broom junk files out
Though Mac is simple compared to Windows, the Mac OS also need some Mac cleanup software because it can get slow over continued use. However there are more utility applications for Windows compared to Mac OS X. Utility software are programs that perform system maintenance, cleaning and optimizing functions. And Mac needs these utilities every now and then to keep the system on top of its shape.
For Mac users who are using their computers more often hard drive space can easily be consumed. This is sometimes loaded with videos, music, applications and other files that will end up filling your hard drive. But with Mac cleaner software it can help a lot in recovering the hard drive space.
Over time system performance of any computer slows down. This is quite true if Mac users constantly update their security, replace operating systems that often lead to file fragmentation and end up cluttered hard disk. You can resolve this problem by using some of these recommended Mac cleaner tool for your system.
How to clean up your Mac system stuffed with out-of-date data?
The Mac OS X needs to undergo cleanup operations once in a while. In doing this, the old, junk and temporary files will be remove from the hard drive that might only consume the disk space. If you want to run the cleaning routines do this when the Mac system is idle because the cleaning process can take long. There is other third party application also that is capable of cleaning the Mac. EaseUS CleanGenius is quite simple to be comprehended and used.
It is capable of freeing up hard disk space and identifying useless large files in your Mac hard drive. It removes large files that are useless and only consuming the disk space of the system.
With EaseUS CleanGenius, Mac performance is not a problem anymore. It comes with multiple functions that aim to clean your hard drive and resolve other computer problems and will give you the cleaner and tidier system that is free from cluttered files and other left behind application.
In cleaning up your Mac hard drive, it is helpful to ask assistance from Mac cleanup software that is capable of performing other tasks and not just cleaning up routines. Although Mac itself is built with routine maintenance tools but most of it are still limited. EaseUS CleanGenius can be a better substitute for it that can clean your Mac hard drive and improve the system performance.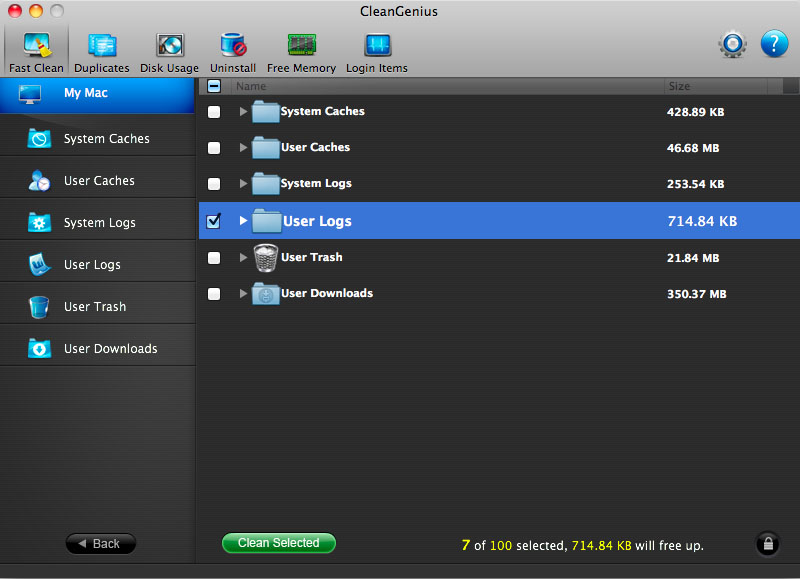 EaseUS CleanGenius is a Mac cleanup software which can help you remove junk files, such as system caches, user caches, etc. to improve your system performance and free up disk space. Download it now to clean your Mac and let it healthy and clean.
Feedback on this article:
Thanks for visiting EaseUS, please share your experience with us, which will help us improve this article and make it more useful to others. Should you need technical support please feel free to contact support@easemac.com.
Related Articles: