How to clean Mac disk space with Mac cleanup utility?
How long haven't you cleaned up your Mac to get you rid of those garages, caches as well as useless logs that slow down your Mac performance? Here, I would remind you to take a closer look at the crusty corners of your Mac. The following mentioned points often eat up large amount of your disk space:
1. Remove old iChat logs
iChat program store logs of your chats. (Go to iChat -> Preferences, click on Messages, select Save Chat Transcripts To, and then choose a folder.) By default, the program saves transcripts in a folder called iChats in your Documents folder, but you can choose a different location to store these files.
iChat will automatically save a log file of every chat in case that you often need to refresh your memory about a conversation. But if you send images inline during chats, these files may take up a lot of space. If you look inside the iChats folder, you'll see that the files are organized by date. While you may want to save recent chat logs, you may have months of files you can trash, saving a lot of disk space.
2.Get rid of application backups
Many programs offer automatic backups, and store copies of files in a selected folder, just as iChat saves chat logs. If you use any application that saves backups, you may find that it has tucked away several gigabytes of duplicate files, depending on how the program saves them. Deleting these backup files can save space, and make searching via OS X's Spotlight much easier.
While you're at it, check in youruserfolder/Music/iTunes folder; you may find a Previous Libraries folder, which includes copies of your iTunes libraries that were saved after you installed a new version.
3. Delete files in download
You might download hundreds of files during the use of you Mac. For some applications, you would probably forget all these application files after you have installed them to your Mac. You may have dozens of files here occupying a huge amount of space. You can generally delete these without worry
4. Delete log files
Your Mac stores lots of log files, most of which you never need to review. Open the Console application (in /Applications/Utilities), to see a list in the Console Messages window sidebar.
These are only parts of rubbish in Mac that slows down its performance. If you want to clean disk space with one click in a whole, you have to get a Mac disk space cleanup utility in hand.
EaseUS CleanGenius can delete the System Caches, User Caches, System Logs, User Logs, User Downloads, Trash, Safari Internet Cache and more that gradually eat up your disk space and make your Mac works like a snail. Why not have a try with EaseUS CleanGenius to be your Mac disk space cleaner.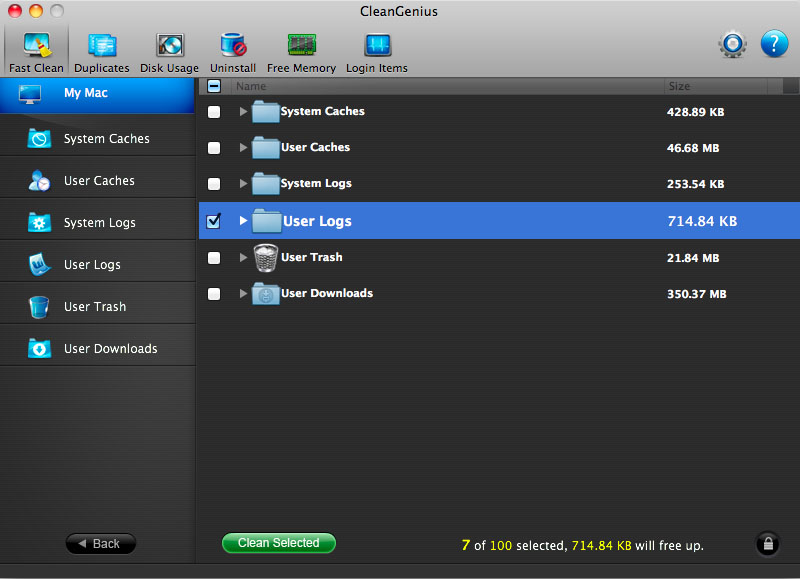 Feedback on this article:
Thanks for visiting EaseUS, please share your experience with us, which will help us improve this article and make it more useful to others. Should you need technical support please feel free to contact support@easemac.com.
Related Articles: