Looking for Mac cleanup solution to clean Mac
After a few years, my hard drive space was rapidly depleting on my Mac and needed to free up some space quickly. A lot of Mac users definitely have the same problem. Little free disk space makes their Mac like a snail and walks extremely slow. In fact, no matter you are using a Windows PC or Mac, you can't avoid the fact that useless data or unnecessary application would affect the performance of your machine unless you are doing cleanup work to you Mac periodically.
How to clean your Mac to optimize performance
Speak only one language? Me too. But, your Mac provides multi-language in order to satisfy different people's need in different area. However, not everybody would need these languages. Therefore, just keep some languages you think needy to you and delete the extra language packs you would never use. Believe it or not, this was about a 3.2 GB score and I was surprised that it even got the language packs for 3rd party programs too.
Mac also provides printer drivers so as to satisfy different brand printer. Personally I've never hooked up to any other brand of printer besides HP, Brother and Lexmark. Go into /Library/Printers and delete the printer drivers for any printer you don't currently have a profile for or have never heard of. Won't you believe it, 2GB disk space can be saved.
Recent versions of iTunes® create a backup of your current iTunes Library file whenever the iTunes application is updated. After you are satisfied that an iTunes update is performing nominally, trash old iTunes Library files with your Home > Music > Previous iTunes Library folder, then empty the Trash.
A lot of disk space can be saved by eliminating those junk files. Above-mentioned things are just part of the whole rubbish. In fact, there are also system caches, user caches, system logs, user logs and other things of no use that need to be cleared out. But it is also time-consuming and effort-taking to do manual deleting. Without the help of Mac cleanup software, it is impossible to clear all junk files that eat up disk space out.
Thus, in order to do a killing spree for Mac. My weapon of choice is Mac cleanup freeware – EaseUS CleanGenius, free app that is known for its simplicity to remove what troubles your Mac with one click. Especially for files in Download, rubbish in the Trash as well as system caches and use caches. Besides the cleaning function, it also can be disk space monitor and mounted drives ejector. EaseUS CleanGenius is your choice.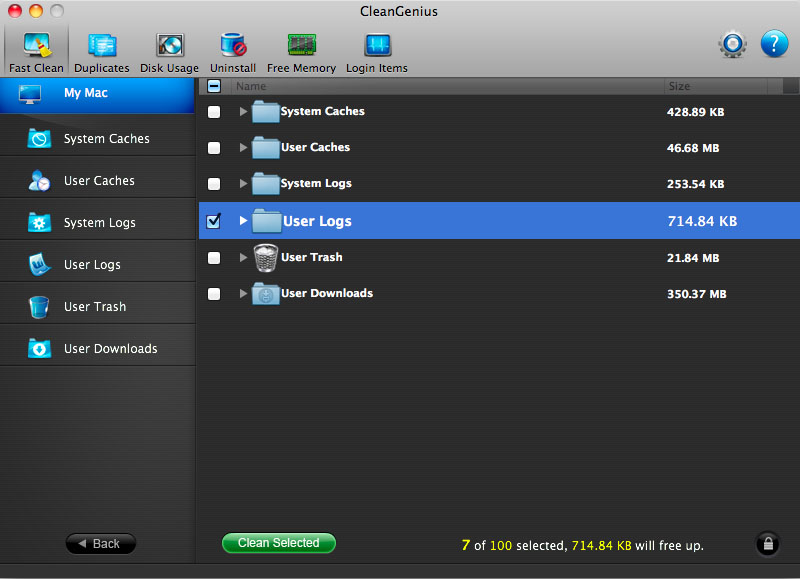 Feedback on this article:
Thanks for visiting EaseUS, please share your experience with us, which will help us improve this article and make it more useful to others. Should you need technical support please feel free to contact support@easemac.com.
Related Articles: