Apple Mac system cleanup tool
Here I am going to discuss a fabulous free Apple Mac system cleanup tool to you that may effortlessly assist you to maintain your Mac as well as ensure that it stays working as quickly and steady just as after you bought it.
What Makes a Good Mac Cleaner?
Using a Mac is a nicer experience than any standard personal computer. However, like other things nowadays, it remains hardly perfect. You need to realize that at some point your Mac will start to decrease its speed right up until it eventually goes down. Fortunately there is a perfect way to make your Mac working all over again, and possibly the most suitable choice would be to execute a complete Mac cleanup.
Applying the EaseUS CleanGenius is incredibly effortless by scanning the HDD and telling you how much space that has been taken by those junk files. This enables you to eliminate outdated, undesired, as well as identical data files, take out useless downloaded files, Internet Safari caches and don't forget those you have put in the Trash. Junk files in the Trash that have been removed are great nuisance to eat up disk space. Therefore, all you need to do is to install our app in your Mac, and then you will find it is just a clean utility for Mac Cleaning. Click "Fast Clean" to locate what has eaten your disk space but of no use and then clear out them.
This also has a disk space monitor which allows you to the free space of all hard disks. It monitors your disk space in real-time and warns you when it's below a certain percent which is set by you This feature not only tells you how much space is available on all local HDD but also show how much space available on connected, discs and network drives with a single click, and it could alarm you each time your disk is out of space. The intuitional free space information will be also indicated in real time.
You might also need a toolkit to help you eject all mounted hard drive. Don't worry, EaseUS CleanGenius not only clears out those junk files that trouble you so much, but also works as disk ejector to safe any individual connected drive by clicking the Eject Button next to the drive.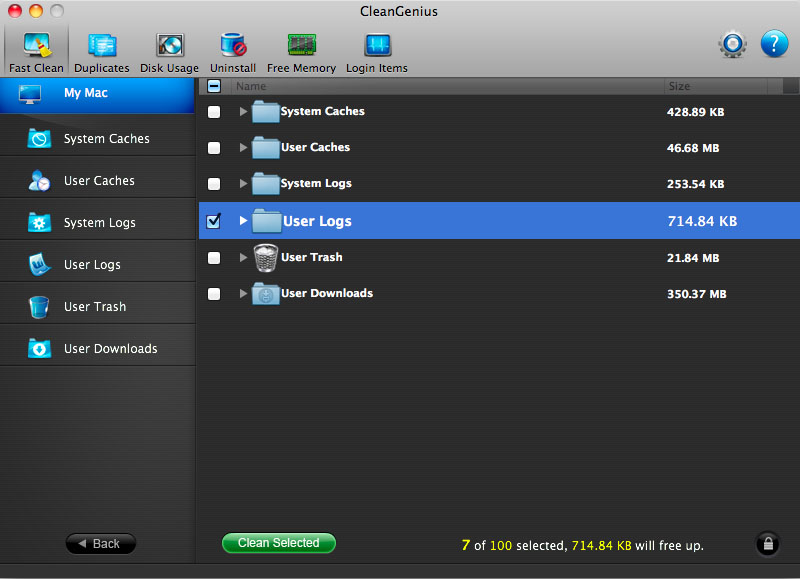 Download it now to let your Mac keep healthy and clean.
Feedback on this article:
Thanks for visiting EaseUS, please share your experience with us, which will help us improve this article and make it more useful to others. Should you need technical support please feel free to contact support@easemac.com.
Related Articles: