How to make your Mac run faster with Mac cleaner?
It's time for your Mac to do a good clean which is actually a good solution to your problem because you probably didn't know that your Mac is actually holding a huge amount of disk space. Cleaning your Mac means that any duplicate files and folders which are considered junk files, and old data and forgotten applications and software which you rarely use can be removed. All of these are taking up space.
Having a new Mac does not necessarily mean you have to fill it up with whatever applications you can find. Your Mac still needs room to breathe – it needs free disk space so that it performs faster and quicker. For instance, if your Mac has 250 gigabytes of disk space, don't expect it to run as if it is new if you're going to load it with dozens of software and applications. Do clean your disk space if your Mac now has less than 50% of disk space.
The benefits of using Mac cleaner software
A Mac cleaner will actually save your Mac from total disaster. There have been a lot of instances where Mac users have to buy new ones because their computers are functioning very poorly. In fact, a simple cleanup tool will do the trick to make their Macs running smoothly. However, they never discovered Mac Cleaners so they let all their junk files rot inside their Mac until it consumes their disk space. A Mac cleaner will do the difference.
To boost up your Mac's speed, you really need a reliable Mac cleaner. However, finding a good one requires a lot of homework, a lot of research. To get one for your Mac, you have to invest and spend money. If money is your issue, you don't have to buy a Mac cleaner since you can manually do the maintenance. Still, it takes too much work and you cannot do everything alone. Are you willing to risk deleting old files and applications when you are unsure if they should be deleted in the first place? It would be better to spend money on a good Mac cleaner to get better results than doing the bulk of the work by yourself.
EaseUS CleanGenius by EaseUS is a Mac cleaner. It monitors your disk space in real-time and warns you when it's below a certain percent which is set by you. It also cleans up system junk to reclaim disk space. Also you can view all your drives and disk space usage. You can safely eject removable media. This app is less than 3 megabytes but it's a nice, simple and powerful application!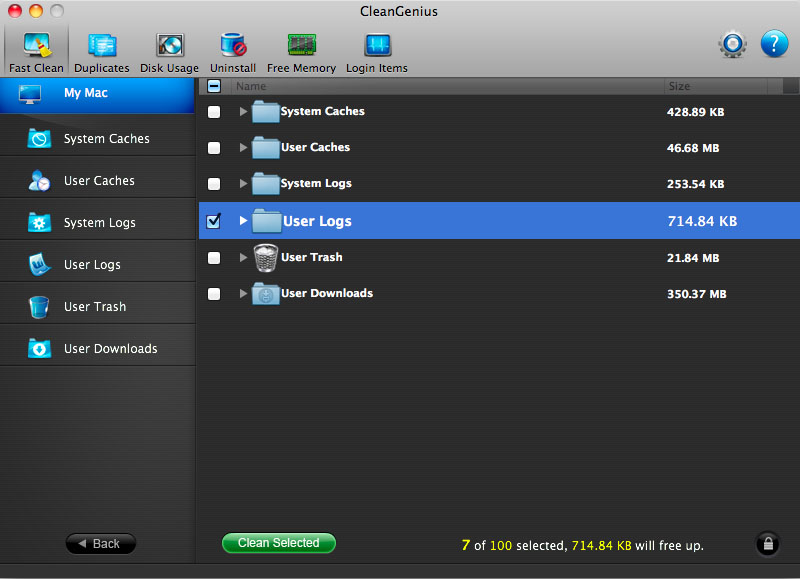 Download it now to let your Mac keep healthy and clean.
Feedback on this article:
Thanks for visiting EaseUS, please share your experience with us, which will help us improve this article and make it more useful to others. Should you need technical support please feel free to contact support@easemac.com.
Related Articles: