Mac cleaner software to free up disk space for Mac users
EaseUS CleanGenius scans your disks and will find out junk files that have eaten up your disk space and slow down Mac's working speed. With this app, you can easily spot those unusually large files and remove them to free up disk space with only just one click.
Why EaseUS CleanGenius?
No matter how large your disk is, the amounts of data you store on them grow too fast. Mac works extremely slow and your Mac might be dead when over four or five apps are simultaneously running. If this happens, then that means it is time for you to do some cleanup up work for your treasure. With the help of EaseUS CleanGenius, you can ease your life for a few hundred megabytes or even a few gigabytes by removing those caches, logs or other unnecessary applications. Fast and easy, EaseUS CleanGenius just scans your disks and then tell you how much disk space has been taken by those junk files, like system caches, user caches, system logs, user logs as well as useless files in Download. The drag and drop function of Mac make users' life easy and smooth. But many people would forget to empty the Trash after they drag an app or a file and then drop it to the Trash. Therefore, data in the Trash would be a nuisance to your disk space.
All disks space at a glance
EaseUS CleanGenius gives you a perfect overview of all mounted volumes currently mounted, be it internal disk, USB thumbstick, FireWire drive or network or even virtual disk. Mounted disk images, attach external drives and they're immediately displayed in EaseUS CleanGenius's list. So you can have a clear idea of how much disk space has been taken and how much disk space is available for use.
Removable Device Monitor and Disk Ejector
The software will monitor your every event of inserting or ejecting the external storage device; it will notice you in the Tray Icon section each time. Drives information are updated in real time. EaseUS CleanGenius can safely eject any individual connected drive by clicking the Eject Button next to the drive.
Details do matter
For the convenience of Mac users, EaseUS CleanGenius is very easy to use. There is no need to be a professional guy or know a lot of knowledge. It sets on the menu bar and with just one click all rubbish will disappear in a few seconds.
Mac cleaner software – CleanGenius
EaseUS CleanGenius can do Mac cleaning, monitor free disk space and eject all mounted drives, etc.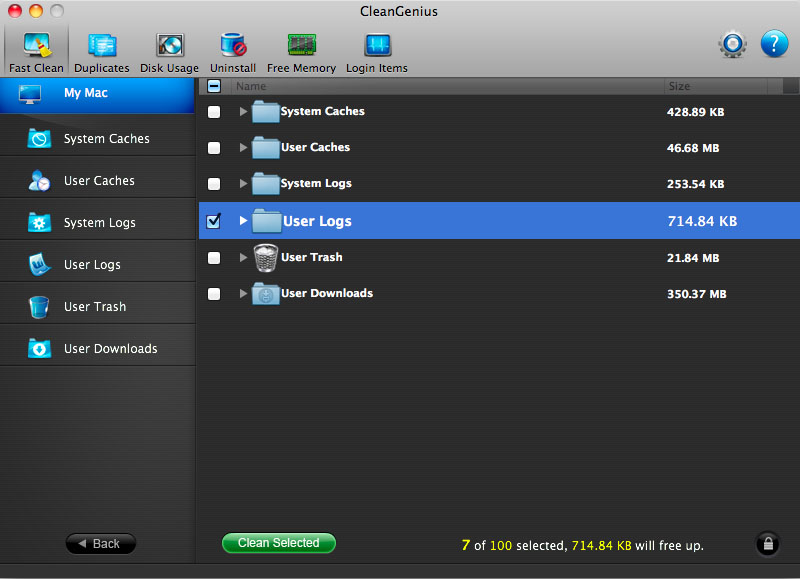 Free download EaseUS CleanGenius to clean your Mac now.
Feedback on this article:
Thanks for visiting EaseUS, please share your experience with us, which will help us improve this article and make it more useful to others. Should you need technical support please feel free to contact support@easemac.com.
Related Articles: