How to clean your Mac disk with Mac cleaner?
Getting frustrated with your slow Mac? Tried to uninstall useless apps, empty the trash, and delete large files, but still it doesn't help? Get a universal cleaning software for your Mac that combines a set of helpful cleanup utilities is a better choice for the situation. EaseUS CleanGenius, the Mac cleaner with its simple operation of clean up Macintosh system, can perform Mac scan searching its hard drive for files that take up space within seconds, and you'll be surprised with the amount of junk detected. One single click on Clean will remove all unnecessary data, and you'll get a clean Mac as if it was brand new!
What should be contained in an efficient and fast cleanup strategy?
The process of cleaning your Mac goes far beyond just uninstalling the apps you no longer need. It's actually quite a tough process, as there are different types of junk originating from different places. Let's analyze these types and see how they can be dealt with.
Cache and log files. These files appear as a result of active usage of apps and over time turn from useful into annoying, as they consume more and more disk space.
For user and system cache files, select Library, Caches/Logs from the User or your Mac's menu, select the files and drag them to the Trash.
Your trash. The most basic thing is to empty your Trash regularly. It seems the easiest and simplest thing, but is also the most forgettable one. But be remembering this is not the only trash you need to empty. Empty the trash in iPhoto, iMovie, and Mail, too.
Free up things from downloaded files. Delete the disk image (.dmg) files whenever you download applications to install.
Those above items should be the foremost things which you should consider to clean if you want to have a fast and efficient cleanup strategy of your Mac. It seems easy but in fact those trifles could be very annoying and disgusting if you have to do it manually from time to time.
Browse Mac software directories for system & disk cleaning apps that will do the above jobs for you and save the trouble a lot. A little search over the Google will get you a lot of gathers. Choose the right one could be the next tough problem. If you consider free, simple, and handy ones, EaseUS CleanGenius could be the best choice for you.
Why use CleanGenius as Mac cleaner to clean up Mac system?
The main advantage of EaseUS CleanGenius over other software apps is its simple concept. You won't need to install and run numerous apps - you'll have to install only one app and clean up your Mac from all types of junk with just one click!
What's more, this Mac cleaner software should be considered more than just a Mac cleaner, for it can also monitor the free space information of all your local and external hard drives in real time, safe eject your removable devices, browse the files of any drive in Finder by one-click, uninstall the unwanted and useless applications, etc.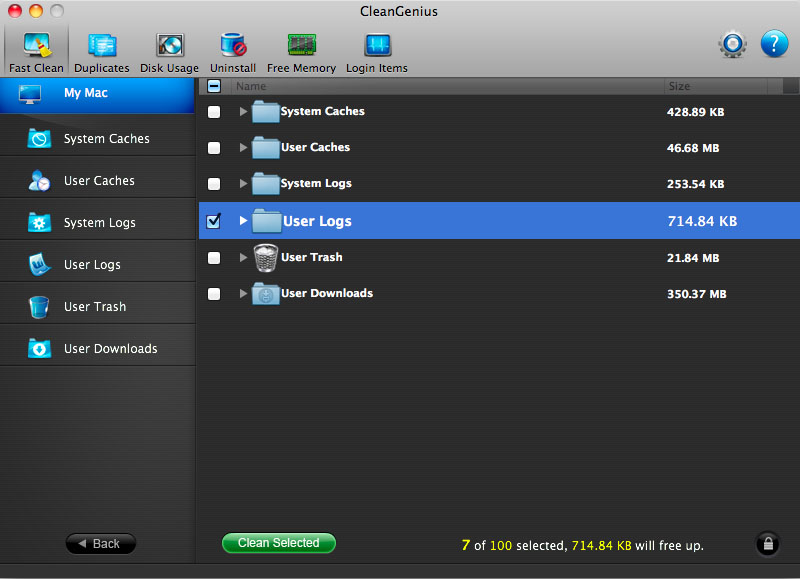 "You can speed up your Mac computer by performing simple maintenance. Unfortunately, there isn't a fast and effecient way to do this natively in OS X. CleanGenius is a great all-in-one Mac cleanup utility that also combines a disk space monitor and disk ejector. It cleans junk files with one-click and is the easiest way we've found to keep your Mac clean and running smoothly with the performance you expect." More reviews...
Not sure whether EaseUS CleanGenius is the right option for you? Download the Mac cleaner and see for yourself how powerful it is. Make your Mac clean and healthy with EaseUS CleanGenius with simple and handy process!
Feedback on this article:
Thanks for visiting EaseUS, please share your experience with us, which will help us improve this article and make it more useful to others. Should you need technical support please feel free to contact support@easemac.com.
Related Articles: