Seek for a good Mac cleaning program for Mac users
No matter how organized a person you are (I like to believe that I'm an organization nazi and don't sleep well if my stuff isn't arranged as it's supposed to be), your stuff tends to get misplaced and clogged up. It happens with your files too. Most of us don't even realize what is taking up all of that hard disk space because we feel there is nothing on our hard disk.
Once you make up your mind and sit down to actually clean your Mac and delete stuff that is not needed, you realize what a tedious and boring task it is. It can take hours, and you may end up freeing a significantly small amount of space even after a lot of work.
The problem here is the way that we look at things. If you are a Mac user, then quickly finding which folders are clogging up most of your space isn't an easy task. You have to select each folder individually, and then press Cmd + I or right click and select 'Get Info'. This trivial activity itself is very tiring and irritating, if you have to do it repeatedly.
Mac OS X is the tenth generation of operating systems developed by Apple. Although Mac OS X is generally considered to be faster, smoother and simpler than Windows, it still requires the occasional maintenance to keep it running at top performance. Files and applications will take up space on your hard drive, which will eventually cause your computer to run slower. Basically, the more space you use up on your hard drive, the slower it will run. Once a Mac OS X hard drive is near capacity, it needs to be cleaned up. Here are some suggestions for you to do Mac OS X cleanup job:
Back up your files to an external hard drive, flash drive or CD/DVD. Before you begin deleting files on your hard drive, it is a good idea to make a backup copy in case you accidentally delete something you need.
Uninstall applications you no longer use. To uninstall an application from your Mac OS X, click "Finder", go to your "Applications", folder, then drag and drop unwanted applications into the "Trash" bin.
Drag and drop other files and documents you no longer need into the Trash.
Empty the Trash. Right-click on the Trash icon in the Dock, and select "Empty Trash"; this permanently delete file in the Trash.
Run a Mac cleanup program – EaseUS CleanGenius. As a tiny yet complete Mac cleaning tool, it provides easy solutions for a fast and efficient Mac.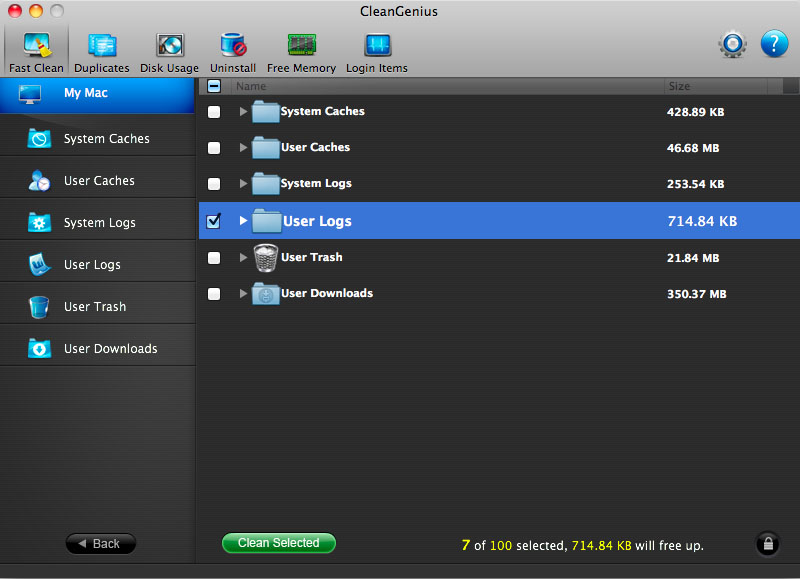 Feedback on this article:
Thanks for visiting EaseUS, please share your experience with us, which will help us improve this article and make it more useful to others. Should you need technical support please feel free to contact support@easemac.com.
Related Articles: