Mac clean up utility - CleanGenius for your best choice
Why do you have to equip yourself a cleanup utility for your Mac PC?
Attracted by Apple's unique and distinctively designed products and therefore you dropped your Windows machine and switched to the Apple's PC a few years ago. However, no matter how beautiful or how good the Mac is, one thing that never change is that it would gets slower and slower after a long time use. Your hard drive would eventually be filled up with system caches, user caches, system logs, user logs, trash, and safari Internet cache and so on. Some of system caches are not so easy to be located and if you are not an expert for the Mac, you even can't recognize system crashes, Internet cache as well as system logs. That 's why here I am talking about Mac cleanup software, with which you can quickly find those junk files that slow your Mac and quickly get them removed with simple clicks.
What kind of Mac cleanup utility is the best for Mac users?
First, it must be simple and user-friendly. This means it shouldn't be complicated or involves so much professional knowledge that makes users puzzled. Easy to install/uninstall and easy to run would be greatly preferred. A necessity for Mac cleanup utility is with ease and simplicity. Don't go in for those complex and hard-to-understood cleanup utility.
Second, it should work fast and correctly. Those junk files might be system cache, download files, trash or Safari Internet caches and so on. This means all these junk files are not in one place but have been distributed in different areas. Therefore, the cleanup utility you are using should work effectively and quickly to locate where they are. And what's more, it won't interrupt what you are doing at that moment.
Third, Mac cleanup utility should be affordable. If you suffer the Internet and you will find a lot of Mac cleanup utility. All of them are very affordable and won't cost you a lot. Buy yourself a cleanup utility and make you Mac work as fast as you wish.
The Mac cleanup utility I find useful to all Mac users
Today, amazing news is that I that I find EaseUS CleanGenius. As free Mac cleanup utility, it is remarkable and innovative. The highlight of this freeware is that can certainly help stop your Mac through slowing down from the beginning with one single click. And there are additional features it offers
Monitor your disk space - show you how much space is available on your drives both in graphic & digital manner and alarm you when your disk space is running low.
Safely eject any individual connected drive.
Pin the graphic free space information of system drive.
Any drive can be opened in Finder by one click.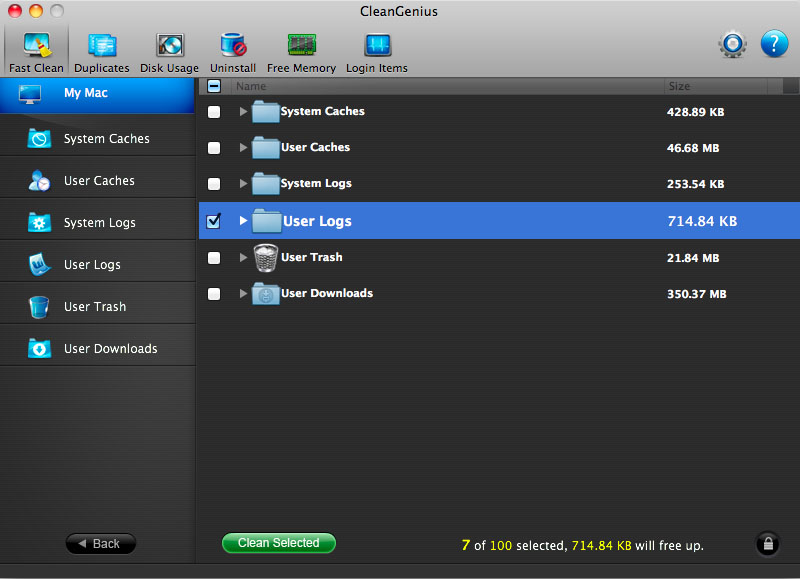 Feedback on this article:
Thanks for visiting EaseUS, please share your experience with us, which will help us improve this article and make it more useful to others. Should you need technical support please feel free to contact support@easemac.com.
Related Articles: