How to free up Mac disk space with Mac system cleaner?
In today's digital world, hard drive space can get eaten up quickly. Videos, music, podcasts, games, applications, documents etc; they all start to add up and fill your hard drive before you even know it. However, there are a number of ways to recover space.
For those of you who take a ton of pictures and use iPhoto, you've probably at some point or another run out of space on your hard drive, especially if you shoot in Camera RAW. Well all those pictures that you've deleted, you know, the ones that didn't quite 'turn out' aren't really deleted and still exist on your hard drive.
To get rid of those photos that you thought you deleted but are still taking up your precious hard drive space, follow the directions below.
Open iPhoto.
Click the iPhoto menu in the menu bar and click Empty iPhoto Trash.
Watch as you get back the gigabytes of space that those hundreds of pictures were taking up!
But this is far away to get free space for your Mac. You need to do full cleaning in order to find those that have been totally forgotten and eliminate them all.
Why your Mac disk space has has been eaten up?
Mac provides many awesome applications, like iTunes, iPhoto and so on for its fans. Thus, who get a Mac would like utilize these apps to do what they want. After a period of time, you would find the Mac disk space has been gradually depleting. If with low disk space, Mac would turns into a snail and can't response you quickly as you expect. Even running several apps at the same time would lead to system being dead. You like your Mac and but the extremely slow speed makes you freaking out. How to solve this and how to get your fast Mac backup? It's time for you to look for a Mac system cleaner to do cleaning work from the bottom to the top.
In order to make your work smooth and won't be affected by Mac cleaning work, you have to find a reliable Mac cleaner which can easily and safely clean your Mac. This why EaseUS CleanGenius that comes into being. In order to solve this trouble that has irritated a lot of Mac users, it works as a cleaner to broom those dusty hidden in corners of Mac and drives you mad. With this Mac system cleaner, junk files like system caches, user caches, system logs, user logs, downloaded files as well as Internet safari caches will be disappeared with one click.
Download EaseUS CleanGenius to have a try!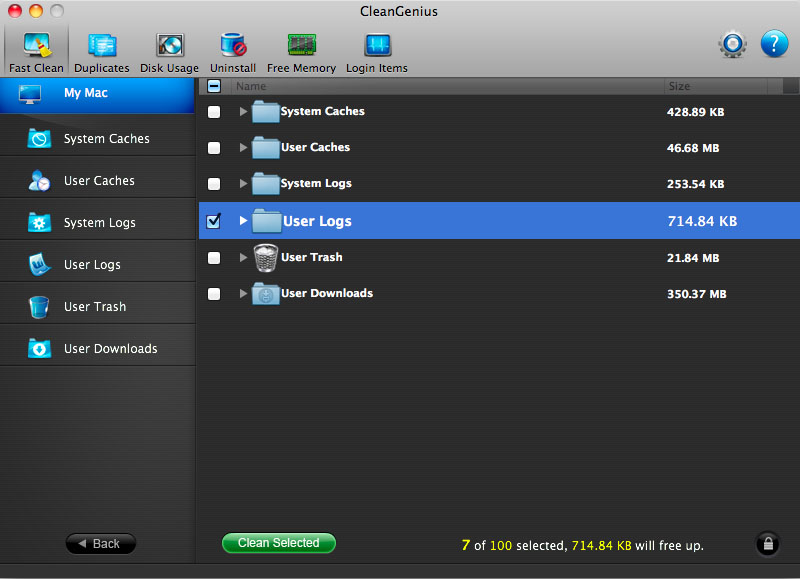 Feedback on this article:
Thanks for visiting EaseUS, please share your experience with us, which will help us improve this article and make it more useful to others. Should you need technical support please feel free to contact support@easemac.com.
Related Articles: