Cleaning up hard disk space to improve the performance of your Mac
All people want to have their computers working fast, without hitches. It's disturbing, and apparently irritating, to work with a Mac computer that has problems. A computer with problems on speed defeats a computer's performance. If you are looking for ways to have your Mac cleaned up, the first step is to know what to remove.
Empty your trash
The most basic thing is to empty your Trash regularly. Unless you're unsure of whether you need a deleted file later, there's no reason to have a Trash full of files. But this is not the only trash you need to empty. Empty the trash in iPhoto, iMovie, and Mail, too.
Remove applications you don't need
If you are not going to use some applications, such as some commercial applications on a trial basis, remove them! Open your Applications folder (with command-shift-A in Finder), drag the unused applications to the Trash, and then, please do remember to empty the Trash.
Remove disk images from downloaded files
Delete the disk image (.dmg) files whenever you download applications to install.
Clean web browser caches
All web browsers store downloaded pages and files in a cache so that they can re-use those files (instead of re-downloading them) if you visit those same pages again. Clearing the cache could provide some free space. Clearing the browser cache can be done in the web browser's Preferences window (command-,).
Remove disk space hogs
Delete data that you don't need, or move them to an external hard disk, CDs or DVDs. To avoid wasting time in moving or deleting files or folders that don't provide a huge benefit, first take stock of what you have and find out which folders or files occupy a lot of space. Once you know which ones to delete, move them to the Trash (or hit command-delete), then empty it.
Archive your E-Mail
Consider archiving the email when the space is low for saving every copy of every email to the hard drive may not be an option.
Run Mac Disk cleanup utilities
system maintenance utilities like EaseUS CleanGenius can help clean up temporary files, system caches, logs, and so on. Besides, this software should be considered more as a maintenance utility than a disk space saving tool for it can also monitor all your local and external hard drives in real time, safe eject your removable devices, browse the files of any drive in Finder by one-click, etc.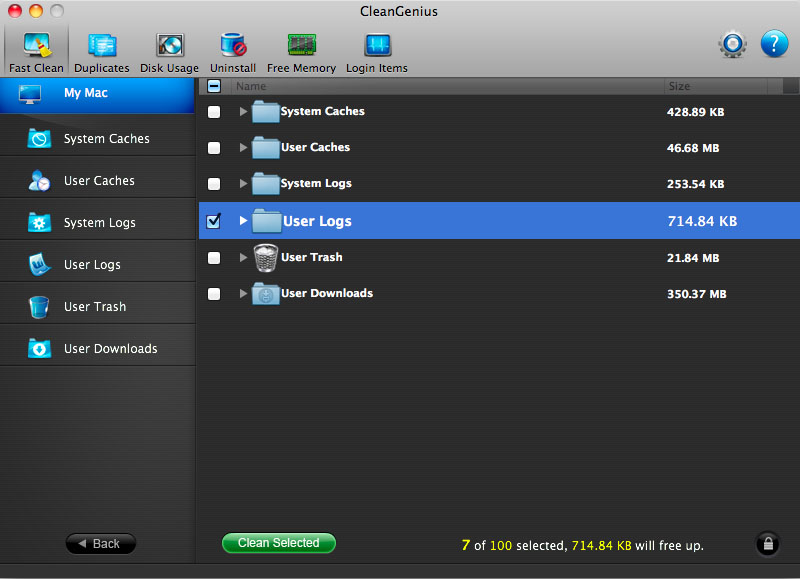 Full features of this professional all-in-one tool:
Fast clean your Mac junk files.
Show the available space on all the drives.
Alarm when your disk space is running low.
Eject all the mounted devices by one-click, like external storage disks, CD and DVD disks, SuperDrive, network storage, disk images.
Mount and Eject completion indicator.
Open the drives in Finder by one-click.
Pin the graphical space information of system drive.
Set custom space value to raise the alarm
This powerful Mac tool promises a healthy and clean system for better performance and faster speed. Download this free all-in-one utility to clean up your Mac disk space right now!
Feedback on this article:
Thanks for visiting EaseUS, please share your experience with us, which will help us improve this article and make it more useful to others. Should you need technical support please feel free to contact support@easemac.com.
Related Articles: