Getting Started
EaseUS CleanGenius is a handy all-in-one utility to fast clean Mac potentially unneeded files, uninstall applications, find duplicates, free memory, manage login items, monitor disk space usage, and eject mounted drives. It offers an easiest way to keep your Mac clean and healthy, let the Mac run smoothly at the peak performance to ease your Mac life.
System requirements
EaseUS CleanGenius runs under Mac OS X 10.6 and later versions. The installation requires 512 MB of RAM or more, 10 MB free hard disk space.
How to install CleanGenius?
A. Download the installation package.
B. Double click ".dmg" file to run it.
C. Drag the "CleanGenius" icon to "Applications" folder.
D. After the installation finishes, click CleanGenius icon in Launchpad to run it.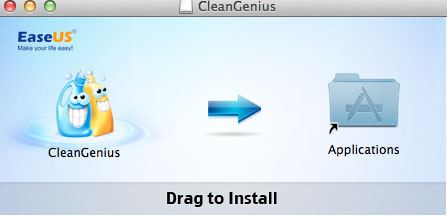 How to uninstall CleanGenius?
A. Find "Applications" folder from "Finder".
B. Drag the "CleanGenius" app to Trash.
C. Delete all the files surnamed with characters "com.easemac" under "/Library/Preferences".
How to activate CleanGenius trial version?
After purchasing this product successfully, you will receive a notification email with the activation number.
A. Launch EaseUS CleanGenius Trial. Click Enter Activation Number button. Or click CleanGenius in the menue bar and select "Activate".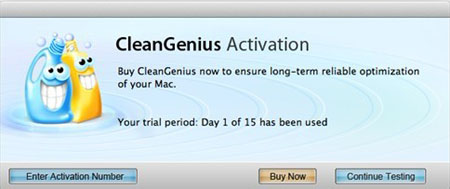 B. Input the activation number you have received.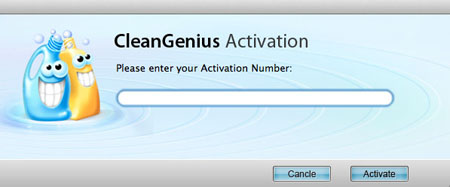 Tips: You can directly copy and paste the activation code to the input bar.
C. Congratulations. Activation completed. Then please restart the app to enjoy the full version.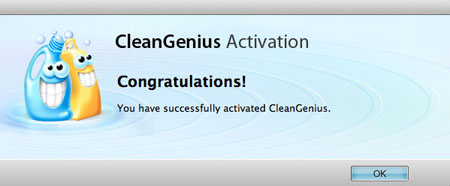 D. Oops. Wrong activation number. Please send an email to sales@easemac.com